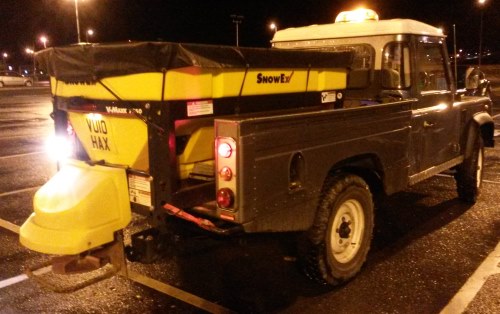 We've been gritting and snow-clearing since 2007. Our pro-active gritting and snowplough service, gives you peace of mind that your staff, visitors, customers and deliveries will be able to visit your premises without undue risk.
Equipment includes four Land Rover defenders, and a tractor, each fitted with hydraulically controlled snow-ploughs. Also three vehicle-mounted salt-spreaders (we usually only use one, but have the other two on standby in case of breakdown). We also use various items of hand-guided equipment for clearing snow and ice from paths and steps. The salt is stored inside an enclosed structure to keep it dry, and our Bobcat mini-loader loads the salt into our gritters.
Weather forecasts and ground temperatures are checked and recorded regularly (usually at least twice daily). If snow or frost is forecast, we'll head out in the wee-small hours, and plough and/or salt car-parks, paths and steps, before your staff arrive.
Quality and reliability are core to our operation. All our procedures are HSE compliant, and our staff are suitably trained & equipped. We arrive onsite with everything we need (so there's no need for onsite storage of equipment or salt). We have full insurance cover for this kind of work, and will risk assess your site.
At present, we operate this service within Lerwick only, but may be able to put you in touch with other contractors willing to service sites in other parts of Shetland. When the snow comes, we'll be very busy, so it's best if you make arrangements with us well in advance.
Contact us to discuss your requirements.