To apply for any of the posts listed below, please download the application form, print it, complete in your own handwriting (or edit the MS Word file), and return by either post, email or fax.   Postal address:  Shetland Grasscutting, 5a Gremista Industrial Estate, Lerwick ZE1 0PX.
We would prefer for you to post your application, but if you need to hand-deliver, then as a Covid-19 precaution, please don't enter the workshop areas, nor approach our staff, just pop it in the letterbox. Thanks! 🙂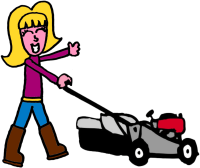 Closing date as advertised. If you have any questions that you can't find an answer to here, then contact us, or email info@shetlandgrasscutting.com.  To apply for more than one post, please complete one application form, and state the posts applied for.
Current vacancies
Senior Team Leader.
You will work year-round, be self-motivated, a skilled and experienced driver, and must have an excellent work ethic. Full training will be provided.
You will cut grass in the summer months, either operating our larger ride-on and remote-controlled machinery, and/or leading teams in other grass-cutting operations. In the winter months, the work includes gritting and snow-clearing work, so you should live in or reasonably near to Lerwick. You will normally take a works vehicle home at the close of each day.
Ideally, you have a trade (e.g. mechanic / joiner), profession, or supervisory / management experience, or you are a skilled grounds maintenance operative, gardener, agricultural worker, or similar.
Highly enjoyable and fairly flexible work, with a good team of people. Excellent rate of pay, commensurate with ability / performance.
For an informal discussion, please email your full contact details to: peter@shetlandgrasscutting.com. To apply, download an application form.

Seasonal grass-cutters.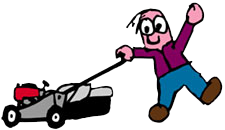 We have a brilliant bunch of people working with us, who all get on really well, and take a pride in their work – so if that sounds like your cup of tea, we want to hear from you!
Driving license (at least a provisional), with category B, is desirable.
Applications from College or Uni students (of any age), in the 1st or 2nd year of a course which is set to last at least 3 years, are particularly welcome. Students attend for the duration of their summer break, non-students get the whole season from early April through to September / October.
Good rates of pay, commensurate with ability and performance. Comprehensive training will be provided. Unfortunately there are no part-time options available for new trainees, you must be available full-time.
We normally work Monday to Friday, and there's scope for some weekend work if desired. Overtime is paid at time-and-a-half after 40 hours. Start time is usually 7.55am, finish times etc are variable, but you'll usually do approx 35 – 48 hours per week. You'll be working in mobile crews travelling throughout Shetland, based around our operations workshop at 5a Gremista Industrial Estate, Lerwick. The work is moderately physically demanding, and you'll certainly get fitter as the summer progresses. 🙂
To apply, please complete and return the application form for seasonal work.
Supervisory staff.  Skilled grounds maintenance operatives. Pay commensurate with performance. Based from Lerwick, operating throughout Shetland. Leading teams in grass-cutting and other grounds maintenance operations. To apply, download an application form.

Part-time seasonal gardening assistant. Flexible shifts, from early April to late September. Physically demanding but highly enjoyable work. You must have a full driving license, and be able to work through the summer holidays. Significant experience of garden-maintenance essential. Typical duties include weeding, hedge trimming, litterpicking. Extra work and increased hours probably available if desired, or, there is potential to offer it as a subcontract opportunity if preferred. Mainly working in and near Lerwick. Pay commensurate with experience, ability and level of responsibility.
Herbicide spray operators. Suitable certification such as PA6, and driving license, essential. Hours flexible, occasional, and weather-dependant. Attractive hourly rate, negotiable.
Occasional standby / relief snow-clearing work available during winter months. Excellent (enhanced) rate of pay. Suitable for applicants living in the Lerwick area. Must be physically fit, and available at reasonably short notice, weather-depending. Peak hours typically approx 4.30am to 7.30am, as well as some shifts in the evenings from approx 6pm – 10pm. Very occasionally longer shifts in the early hours or at other times. Driving license preferred. For an informal discussion, please email your full contact details to: peter@shetlandgrasscutting.com. To apply, download an application form.
Software developer.
We are on the lookout for someone with significant coding knowledge/experience to join our systems-development team, working on a number of interlinked projects. We use Flutter/Dart for our cross-platform app development, and for web application work within ASP.NET. Ideally you would be working as a full-stack developer. Experience of these is not necessary, training can be provided. We would like to hear from students seeking summer work, or someone with more extensive knowledge and experience. The work can be either full-time or part-time. You would be working mainly from home, as part of a small team. The most important qualification is the kind of person you are, but it's also vitally important that you have a healthy, positive, productive work ethic. We could consider the possibility of training you to do grass-cutting as well, if you would like to mix your roles for health reasons. If you're interested in this work, contact us with either an email, and/or your CV, and/or by completing and returning one of our generic application forms.
Application form for seasonal work – PDF format
Application form for seasonal work – Microsoft Word format
Application form for retained Management, QHSE, Supervisors, etc roles